THE PETER DOYLE WEBSITE
GALLERY
Shannon - the Next Generation
Shannon Carpenter, one of the Doyles' younger friends,
with one of Peter's guitars presented to him by Jane, in 2004.
And the Thank You letter from a young man destined to go far!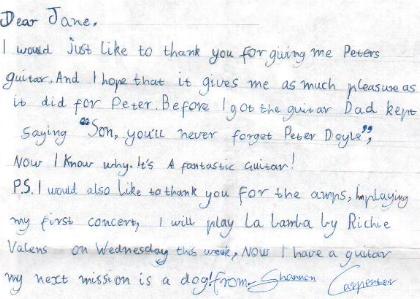 Early Success!

Congratulations to Shannon who
was voted best young busker on
his first attempt, at the Apollo Bay
Music Festival in April, 2005.
Playing Peter's guitar and with still
less than a year's tuition behind him,
Shannon's repertoire included classics by
Bob Marley, Jimi Hendrix and Eric Clapton
as well as songs from more recent artists
such as Jack Johnson, Xavier Rudd
and The Beautiful Girls.

PS - January, 2007

Shannon with Dad, Ian Carpenter and the latest member of the family, Molly, a pup from one of Jane Doyle's smooth collies.

Mission accomplished!
More about Shannon at the Offbeat Website
Photos courtesy of Shannon's Dad (Ian Carpenter)
Page Created June 2005
Upated 260707
Copyright © G. Taylor 2002 - 2021