GUEST BOOK
Site Guide | Current Guest Book
Due to the large amount of spam and other inappropriate messages currently being posted on guestbooks
and message boards all messages to this site will now be moderated before posting.
Genuine messages are very welcome and will be posted as quickly as possible.
Please click below to e-mail your message to the website.
* PLEASE NOTE THE WEBSITE EMAIL ADDRESS HAS CHANGED!

Posted on 12th October, 2019 at 12.10
Peter you left us 18 yrs ago far too soon. Always loved and missed so much
love from Paula xox

Posted on 28th July, 2019 at 20.52
missing you still millions Pete, gone far to soon !
Happy memories my Angel & live on in heaven!
All my lv, Cathy

Posted on 28th July, 2019 at 15.23
Happy 70th Birthday Peter.
you will forever be my Unwithered Rose and thank you for your music.
Love Sandra. x x

Posted on 28th July, 2019 at 00.28
Happy 70th birthday Peter!!
You are a true Aussie icon who brought pleasure to SO many,
+ was taken from us too soon, yet your music + your memory live on.
With much love, Lynne xo

Posted on 27th July, 2019 at 8.27
Wishing you a very happy 70th birthday Peter Doyle with love from Paula
you are missed lots xox

Posted on 27th July, 2019 at 8.17
Peter Doyle. I received my copy of the John Van Boxtell CD with Ram band.
It's fabulous thanks so much John x
(From Paula)

Received 9th March, 2019 at 18.18
Missing the voice . . .
Pia, Germany

Posted on 29th July, 2018 at 02.32
Thinking of you on your birthday, always in my heart, Love Sandra. x x

Posted on 28th July, 2018 at 15.34
Peter's birthday and my thoughts are for you. 17 years, amazing isn't it?
We're still in Italy. It's beautiful here.
Love 'from the both of us'
Roos

Posted on 28th July, 2018 at 11.08
Always thinking of you Pete !! Happy memories Darling All my love Cathy

Posted on 28th July, 2018 at 01.53
Happy birthday Peter! Still loving your music. Lynne xo

Posted on 7th July, 2018 at 15.55
I have just bought the DVD of the new seekers still can't believe Peter has gone
Yours sincerely Helen

Posted on 13th October, 2017 at 14.51
Still in my thoughts and heart, and still loving your music. Sandra. X

Posted on 30th July, 2017 at 00.01
Happy birthday for 28th Peter;
Love Lynne

Posted on 13th October, 2016 at 04.14
Another year gone by and you still fill my life with your music, thank you Peter. Gone but Never Ever Forgotten.
Love Sandra. x x

Posted on 12th October, 2016 at 17.54
Dear Peter it's now 15 years since you left us. I miss you more with each passing year.
Love Paula xox

Posted on 28th July, 2016 at 23.59
Peter, although you are sadly no longer here with us, you and your music live on in our hearts..
For us you will always remain "Forever Young "...
Lots of love... Lorna xxx

Posted on 27th July, 2016 at 23.59
Happy Birthday Peter, we are celebrating your day and your music.
Love always Sandra. x x

Posted on 27th July, 2016 at 15.00
Wishing Peter a Happy 67th birthday in Rock and Roll Heaven, you are greatly missed,
more and more with each passing year love Paula and family xox

Posted on 13th October, 2015 at 12.15
Peter, now, more than ever before,
your music and beautiful voice soothe my heart and soul.
Loved and missed. Jane xx

Posted on 12th October, 2015 at 21.08
Remembering you Peter always
Deana x

Posted on 12th October, 2015 at 19.27
14 long years ago Peter you left us we miss and love you more with every passing year
with love always from Paula xox and family and friends.

Posted on 12th October, 2015 at 04.14
You still fill my life with music, never forgotten,
love always. Sandra. x x

Posted on 21st August, 2015 at 16.44
Beg, Steal or Borrow was the first single I ever bought, I was ten years old and I adored you Peter. I still treasure that record and others by the New Seekers. Time passes and I had no idea you had left us until I came across this site. As I write I'm so very sad but filled with a great affection for you, for the impact that you had on a ten year old girl which still remains today
and for the musical memories that are a part of who I am, thank you,
Kate (UK) xx

Posted on 7th August, 2015 at 02.29
Happy 66th Peter
"We'll Raise Our Glasses High And We'll Drink To You"
Love Always Sandra x

Posted on 28th July, 2015 at 21.55
Wishing Peter a happy 66th birthday now in Rock and roll Heaven
with love from Paula deeply missed xox

Posted on 28th July, 2015 at 16.16
Thinking of you Pete...I often do. Love Lyn x

Posted on 24th April, 2015 at 21.43
I have just watched a video when Pete was in the band new seekers. ...pinball wizard. .love the vocals been one of my all time favs. ..I also now remember reading when I was a kid in a magazine about when Pete left the band. ..its strange to think that all that time ago and to me watching that video just now has led me to write this comment like some sort of connection. ..anyway hope that im not sounding strange. ..but thank you Pete for the music you gave ...part of my musical youth ..I am 53 now and felt the need to share and write here . Bless you.
B.

Posted on 13th October 2014 at 04.44
Peter, your music continues to soothe my soul.
You are loved, missed, and never forgotten.
Jane

Posted on 12th October 2014 at 21.24
Always remembered, Always missed, Always much loved......
and Always Peter your music lives on, as you do in our hearts....
Lorna xxx

Posted on 11th October 2014 at 23.36
Another year Peter since your passing. Love your music i wish we could have more.
Deana x

Posted on 10th October 2014 at 15.54
Peter you are always in my thoughts, still loved, still missed,
but your music lives on. Thank you for the music.
Sandra. x x

Posted on 4th August 2014 at 11.10
I went to school with Peter at Keon Park Technical School, many years ago ( obviously )
I also have several singles of Peter's songs was a very good young man, may he rest in peace,
cheers
Les Janetzki

Posted on 29th July 2014 at 09.13
Remembering your smile.
Love Lyn x

Posted on 29th July 2014 at 00.58
Birthday memories of you today Peter, we all love and miss you.
I thank you for the music and all the happiness you bring.
Loves Last Gift - Remembrance
Doreen

Posted on 28th July 2014 at 17.08
A voice that is still instantly recognisable and a talent sorely missed but always remembered.
Happy Birthday Peter
Alison B.

Posted on 27th July 2014 at 22.41
Remembered not only today Peter but every day.
You, your music and your special smile live on forever in our hearts ensuring you will never be forgotten..
God Bless ..xxx....from Lorna Taylor ..Edinburgh.

Posted on 27th July 2014 at 21.56
Happy Birthday Peter. I wish you were here to see all the love we have for you. Rest well.
Never forgotten and always loved.
Jane

Posted on 25th July 2014 at 17.21
Happy 65th Birthday Peter, your music still lives on forever in our hearts.
Love Sandra. x x

Posted on 23rdJuly 2014 at 23.17
Thinking of you Peter on your birthday 28th July.
Your voice still makes me tingle every time i hear you sing.
Love Deana xxxx

Posted on 11th July 2014 at 02.11
Peter and the New Seekers were a big part of my life, I loved his songs,
he was a talented musician and songwriter - his music lives on
Doreen NI

Posted on 5th July 2014 at 18.21
Just read Jan C's post from 17 June. I couldn't have put it better myself.
I will never forget the happiness he brought me through his beautiful voice. Now in my 50's,
I still get emotional when I hear him. Thank you, Peter...
Alison NI

Posted on 17th June, 2014 at 12.48
I've just been listening to Peter on my itunes. He was so much part of my life in my teens.
He my be gone but he is NEVER forgotten. His memories and stunning voice
will always stay with me.
Jan C UK

Posted on 23rd December, 2013 at 07.01
So sad to come across this site Peter Doyle is a name from my past.
I remember Peter as a gentle soul with a voice to match
So many of the voices I remember from my past are no more
Regards to Peter's family
Cheers dawn x

Posted on 7th November, 2013 at 12.29
I just stumbled across this site when I was looking to see if I could find former members of swallows juniors.
l joined in 1963 as a 10 yr old and peter was one of my heroes. He wasn't there for long as he and most of the
cast were considered too old .the same thing happened to me 4 yrs later. Peter was a good guy with a great voice.
I bought his first record with the virgil brothers. Sorry to see that he passed away and condolences to his family.
My name is Greg Thomas and I live in Brisbane.

Posted on 1st November, 2013 at 11.23
Just listened to your Rarities Cd Peter that I received today.
Such a beautiful voice treasured forever.
Deana x

Posted on 1st November, 2013 at 06.49
I went to school with Peter in about 1961-62 (Merrilands High) and we used to go for an after
school dip in the channel at Edwards Lake, Reservoir.
From memory his mother was into herbalism as she used to have herbs steeping in water
for Peter to drink when he arrived home from school. To this day I have no idea what was in it.
I'm fairly sure that he was still with the Swallows Juniors in those days too.
I'd love to know what became of his wife & family.
Norm Gray.

Posted on 31st October, 2013 at 04.59
It only seems moments ago that you were singing I Can Say You're Beautiful in Tony Barrows office.
Never forgotten Pete and always loved. X
Lyn Paul

Posted on 13th October, 2013 at 16.47
Peter, you are not with us in body, but your spirit, love and music are still working their magic.
You continue to bring people together. You are deeply missed and never forgotten.
Jane and Paula
xxxx

Posted on 13th October, 2013 at 13.42
Peter, thank you for the memories, your music and your beautiful smile....taken from us far too soon.
Lorna
xxxx

Posted on 13th October, 2013 at 12.06
Remembering you Peter and your very special beautiful voice.
Deana
xxxxxx

Posted on 12th October, 2013 at 19.39
Remembering you Peter.
You beautiful voice and music still play in my heart over the years.
Thank you.
Tracey xx

Posted on 11th October, 2013 at 16.23
Still loved, still missed and always in our hearts
Sandra x x

Posted on 3rd October, 2013 at 21.47
Just wanted to leave a little message of thanks to the man whose voice first piqued my life long love of music,
and who was my first heart throb. Peter Doyle is fondly remembered.
Anne Short

Posted on 28th July, 2013 at 14.09
Happy Birthday Peter. Still missed, still remembered n always loved. Jane and Paula xxx

Posted on 27th July, 2013 at 20.13
Like so many here I discovered Peter in my early years when his wonderful unique voice and creativity made me first fall in love with music.
I moved on through life but have now returned to his work with a new and greater appreciation for everything that he was and is through his music.
Thank you Peter for this gift - you were never and never will be forgotten.
Tracey Martin

Posted on 26th July, 2013 at 19.30
You would have been 64 this year, Happy Birthday Peter, it is hard to forget someone who gave so much.
Always in my heart,
Sandra.x x

Posted on 11th April, 2013 at 15.27
Hi i have just found this site ,i was a huge New Seekers fan had all the albums and singles ,was devastated when peter left the band as he was my favorite one along with lynn paul i always thought those two would end up together. I do have the first single he released after new seekers ,rusty hands of time which i still play now and again when im reminising ,so sad he died so young he was a great performer and i will always have peter in my heart ,he was always on my wall along with donny osmond and david cassidy ,glad i found you i will be looking for you on facebook many thanks sally xxxxx

Posted on 4th December 2012 at 02.01
Hello to you. Just this morning I was out with my dogs stooging around the countryside and I visited the Muckleford Cemetery,
near Castlemaine, Victoria, Australia. While rambling round the cemetery I came across the memorial to Peter john Doyle,
and this caught my attention as I am Shane John Doyle, born 1/2/1949.
My wife, who is a genealogist, found the website, and she is now researching to see if there is/was any connection.
Anyway, just wanted to 'sign' the guestbook
Best Regards
Shane John Doyle

Posted on 13th October 2012 at 22.10
Still can't believe you are no longer with us, but your music is,
and is bringing your fans together.You will never be forgotten.
Sandra.

Posted on 10th October 2012 at 02.26
Always loved, always missed.
Paula xx

Posted on 10th October 2012 at 02.26
Never forgotten!
Sleep tight
Jane xx

Posted on 21st August 2012 at 03.13
I had just now sung 'I Can Say You're Beautiful' (one of my favorite ballads) along with Peter on YouTube,
when I learned of his passing. I also just now learned that I was born 20 days after he was.
I have to wonder how much richer musical history could have been had this talented person had a longer life.
As it is, he certainly left his mark and I'd like to express my gratitude for his legacy at our 'birthday days.
BC

Posted on 28th July 2012 at 21.09
My sweet and gorgeous Peter, happy birthday. Forever in my heart,
love Roos

Posted on 27th July 2012 at 09.00
Peter you will always continue to fill my life with music.
Happy 63rd Birthday. You Are My Unwithered Rose.
Love Sandra. x

Posted on 26th July 2012 at 16.35
Happy Birthday Peter!
Your influence on my life and the joy I get from your music continue.
I will never forget. Sleep tight!
Love, Jane

Posted on 26th July 2012 at 15.19

You are loved and you are missed..
You hold a special place in my heart forever.
Happy Birthday Peter.
Love,
Paula

Posted on 1st June 2012 at 23.15
I miss Peter, thou i missed his passing by 5 or so years. I met he and Jane in Woodstock and hung w/ them @ [ 'the barn'
- [several long nights ], of dylon fame]. We spoke of many things , including my coming to Australia, as, one of his
brothers was in construction, and 'praps i could get a job. me wife said no... so sad , this all must have been ~ 1982 ?
I'm very happy that he later married Jane , they seemed perfect together !
I do , however, have to admit that he led me astray on some of his song credits though ,but, i suppose that was peter
w/ a buzz on ... [ like doing ' the elephant' - @ Deanies - on a crowded Friday Night] ! - right in front of the bar ]!
Whatever ;
Loved the man;
- extremely belated regrets ; My Best to Jane [ IF she possibly remembers me]

Best Regards to all of you whom hold his memory ! ;
- daniel dooling , woodstock,ny

Posted on 30th May 2012 at 14.10
Just to say Peter really does have the kindest, most warm hearted, and real, fans of all the group,
they pick you up when down, send gorgeous Doyley inspired gifts to cheer,
and we all have such banter with no bitching.....
and this fan site is run with real style and class Mrs T...all love Janna xxx
special hello to Sandra and Jane the little minxes.

Posted on 5th May 2012 at 02.02
The very talented Peter Doyle
I was one of many of your true fans
I have just learnt recently of you
Passing away I am so sorry to hear
My love to your friends and family
I 'm chocked up writing this I just
Wanted to say thank you and say
You are so sadly missed our loss
But heavens gain R I P
Olive Merseyside U K

Posted on 28th April 2012 at 22.40
I'm so sorry to have only just learned of Peter no longer being with us. (28 April 2012)
I'm just sat watching 'I love 1972' on BBC1.......'I was so in love with Eve Graham'.
being only 14 at the time, and I decided to Google the New Seekers ..and to catch up with where they are today.
So sad to hear that Peter has left us....such singalong tunes from a great group,who genuinely seemed to enjoy themselves
Regards to his family
Phil

Posted on 10th February 2012 at 13.19
Where has the last 10+ years gone. Life does go on but so does the memory of special people who are old friends too.
Sleep on Peter, you are still with us strong in memory......Visited Peter's grave 3 weeks ago...still a peaceful place.
Lee Keller CMC.

10 YEARS ON . . .
(send an email via the above link to add your message)

Posted on 3rd November, 2011 at 17.29
I am so sorry to have only recently learned of Peter's death.
I have been watching old footage of the the New Seekers singing at the 1972 Eurovision song
contest and can see what a fine musician, singer and pivotal member of the group he was.
His family and Australia must be so proud of all his fine achievements.
Jill Dewar

Posted on 14th October, 2011 at 23.30
10 years - always missed, never forgotten.
Your wonderful music continues to bring people together.
Thank you for bringing joy to so many.
Jane

Posted on 13th October, 2011 20.17
Thanks for the music and the memories Peter.
Sue Smith

Posted on 13th October, 2011 at 18.45
Peter you brought so much joy to my life,and still do.
Learning of your passing was very sad but knowing that your music lives on makes me smile.
You will forever be in my soul. As you look down i hope you know how loved you were/ are.
You Are My Unwithered Rose. Sandra.

Posted on 13th October, 2011 at 16.56
I was listening to 'Move Me Lord' earlier today and it brought a tear to my eye.
10 years on, gone but not forgotten Peter. x

Pat (Manchester)

Posted on 13th October, 2011 13.34
10 years ago - hard to realise. My thoughts and very best wishes are with Peter's family
and I'd like to say 'thank you' for allowing us a look on Peter's final resting place to share his memory.
Thank you Peter for the wonderful music you gave us and for your lovable behavior to your fans!
You'll be always on my mind.
Margret

Posted by Janna on
13th October, 2011 at 10.16
PETER, REMEMBERING YOU WITH LOVE AND TEENAGE MEMORIES, OF LAUGHTER,
KINDNESS,AND YOUR MUSIC THAT WILL ALWAYS LIVE ON IN MY HEART.
' AS LONG AS WE LIVE,YOU SHALL NOT DIE'

JAN xxx

Posted by Lyn Paul on
12th October, 2011 at 12.40
Ten Years Peter and still remembered fondly X

Posted by Ian on
7th October, 2011 at 18.27
peter i saw you 1972 at the albert hall i was just a kid
you still write the best lines in the end your lawyer is the star
RIP god bless you peter ian england


Posted by Sandra on
7th September, 2011 at 19.34
Still miss you Peter -
38 years ago I first heard you sing ,today I can still hear you ,you will be around always.
My fondest wishes to you in heaven. Sandra Roebuck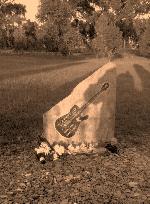 Posted by Mark on
25th June 2011 at 16.11
Such a Fabulous Collection of Peter's Time Whilst Here......He Was Very Unique with an Incredible Voice that was just Pure Magic. A few Years ago I travelled to his Resting Place......Such a Lovely Place Too.....set in a Place where it looked like time had just stood still....in fact you could say it was like 'Winding Your Watch Back 200 years'......It took a while to find as its Really 'Out of The Edge of Beyond' I managed to stay there for around 1 1/2 hours....I Played 'Teach'.....and a Collection of all My New Seekers songs that Featured Peter.....I Had taken a Small Pot of Pansies with Love from Nic and All The Fans From The UK......He Must of been a Victoria Bitter (VB) Fan as there was a few Cans there so Every so Often when I have a VB I Always Drink to His Memory.......Sadly Missed.....Never Forgotten

Posted by Diane on
23rd May 2011 at 14.33
I was a great fan of Peter Doyle back in the seventies along with the rest of the New Seekers, but Peter was my favourite, I only learned of his death recently and it saddened me greatly. Unwithered Rose was a wonderful song which he sang with such feeling!;
I'll never forget you PeterDoyle or your music.

Diane [UK]

Posted by Jane on
16th February 2011 at 03.20
I hold memories of Peter close to my heart. I saw him perform several times with The New Seekers and have never heard a more amazing voice. The world has lost an amazing talent. Thank you, Peter - God Bless you as you sing with the angels.

Posted by Phillipa on
11th February 2011 at 19.20
FOUND MEMORIES OF PETER, HIS VOICE MADE THE NEW SEEKERS SO MUCH MORE THAN A MIDDLE OF THE ROAD POP GROUP OF THE 1970'S. THANKS PETER,and MANY BLESSINGS.

Guest Book Archives: 2002 | 2003 | 2004 | 2005 | 2006 | 2007- 8 | 2009 | 2010 |
Sign the Guest Book | Site Guide
Page updated 15.10.2019
Copyright © Paul Taylor and Gwyneth Taylor 2002-2013