Gigs 2004:
March 7th - Butlins: Skegness
May22nd - Warners: Littlecote House Hotel, Hungerford
September 25th - Warners: Thoresby Hall (Notts)
October 23rd - Warners: Bembridge Coast Hotel, Isle of White
November 12th - Butlins: Skegness
23rd October, 2004
Nowadays the New Seekers performances are generally part of the special 70's weekends organised by Warners and Butlins. Those who have seen them recently woud recommend any of the fans to go along and see their show:
"Anyone re visiting the New Seekers in cabaret and concert today and expecting a vastly different set from their hit making days would be dissapointed, however not a soul in today's audience felt that. Albeit with a slightly different line-up, they are still instantly recognisable as world class hit makers, most of their hits are featured and most importantly the New Seekers still do what they always did best - perform live wonderfully.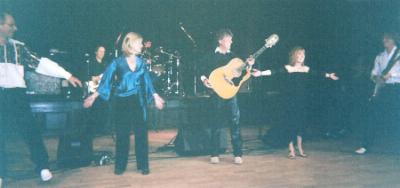 Paul, Francine, Mick, Donna and Mark
backed by Roger and Sebastian
(Photo from Hungerford Performance, May 2004)

"Whilst it's their chart toppers such as Circles, Beg, Steal or Borrow and You Won't Find Another Fool Like Me which the audience recognise, covers of other artists songs given the New Seekers magic are received equally well. Combining I Don't Want To Hear About It with The First Cut Is The Deepest is a winning combination for Mick Flinn and Donna Jones whose voices are as tuneful and forceful as ever. Their commitment to the group is admirable and nothing if not first class. 'New Girl' Francine Rees brings a freshness and humour to the line up adding her own style to the groups sound. Paul Layton, ever vigil after so many years and duly dedicated, is put into the spotlight for his rendition of 2 Bee Gees songs and they are magnificent. Why was Paul never show-cased way back? The other recent addition to the group, Mark Hankins is a commited and superb guitarist with a vast pedigree and his harmonies are pure 'New Seekers'.

"This current line up compiment each other as well as any line up who have carried the New Seeker name since their formation and capture the magic, warmth and fun which the group's name represents. Roger Warburn, regular on backing guitar and Sebastian Hankins on drums enrich the sound further.

"Teach The World To Sing is repeated as an encore, demanded by the audience, a familiar site at the groups shows at Warners hotels and Butlins venues today. A show which should not be missed".
The Songs They Sang Together:
Never Ending Song Of Love
I Can't Let Go
Nickel Song
I Get a Little Sentimental Over You
Music Medley
The Seeker
Circles
What Have They Done To My Song, Ma?
You Won't Find Another Fool Like Me


I Don't Want to Talk About It/The First Cut Is The Deepest
Massachussettes/You Dont Know What It's Like (Bee Gees /Everly Brothers featuring Paul, Mick and Mark)
I Want You
Beg, Steal or Borrow
Pinball Wizard/See Me, Feel Me
I'd Like to Teach The World To Sing
- Nic Culverwell
12th September, 2004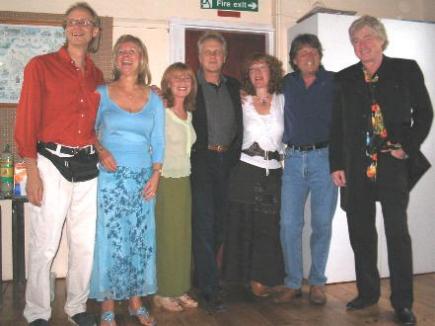 L-R: Paul, Fran, Donna, Marty, Cathy, Mick and Brian
Fans gathered from as far away as Holland and the USA for an afternoon of sharing memories, scrapbooks and music with past and present members of the New Seekers. Most of the current line-up: Paul Layton, Donna Jones, Mick Flinn, Francine Rees and Roger Warburn, were joined by Cathy Logan, Brian Engel and Marty Kristian and former fanclub secretary Christine (Jill) Webster. A wonderful chance for fans to catch up with old and new members of the group, who shared many anecdotes of their years with the New Seekers and a few memories of Peter Doyle and lead a singalong of some of the New Seekers' best loved hits.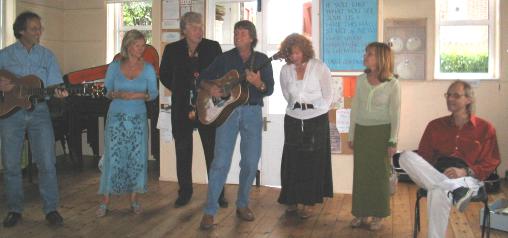 L-R: Roger, Fran, Brian, Mick, Cathy, Donna & Paul
A Review
We Must Believe in Magic
Cathy Logan appeared as the special guest in the Geoff Bailey's Dancers show We Must Believe in Magic at the Comberton Performance Hall near Cambridge on 30th and 31st January, 2004.
"As all New Seekers fans past and present already know and love Cathy (formerly Kathy Ann Rae) she certainly needs no introductions however not everyone may have expected such a sophisticated and classy act as we were treated to here at this new venue in Comberton. It's only due to the lack of theatres and variety shows that Cathy hasn't gone on to be a huge solo star in the UK and elsewhere and certainly not because of a lack of star quality. This lady glitters and shines as a star performer in a simple but effective set allowing us to hear the voice without being distracted by flashing lights and over produced music. A wonderful backing tape allows Cathy to perform well-rehearsed and familiar songs by such artists as: Crystal Gale, Bonnie Raitt and the Eagles and a wonderful interpretation of Will Young's recent hit: Right Now, is a perfect number for her. A full house was spell bound as each song filled the room with Cathy's powerful and distinctive voice. A brief but warm reference to the New Seekers reminded us of her days as a top performer and with a bit of luck there is no reason why Cathy couldn't repeat that success once more. Catch her again soon.
"A wonderful display from Geoff Bailey's versatile dancers completed this wonderful evening arranged by Mr. Bailey." - Nic Culverwell
Cathy Logan web pages at:
Cathy Logan