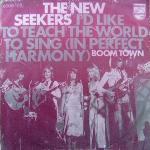 The New Seekers are only one group amongst many artists who have sung on Coca Cola advertisements down the years and the jingle which became I'd Like To Teach The World To Sing, was one of several recorded by the group and one of three to be turned into full-length songs.
The World I Wish For You appeared in album form and It Ought to Sell a Million became a single for Lyn Paul after she had left the group but the recording retained part of Peter Doyle's vocal backing.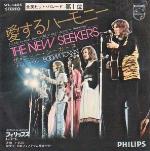 The original Buy the World a Coke radio jingle, set to the Cook/Greenaway melody: True Love and Apple Pie , flopped but Bill Backer would not give up on the idea and re-launched it in a visual format. Even the filming was dogged by bad luck, but once completed, the new commercial received a very different response. In a few short months there had been over a hundred thousand letters asking for the jingle to be turned into a record.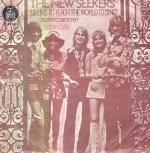 The lyrics were re-written to remove the commercial references and The Hillsiders brought out a cover of the song in America before the New Seekers were able to get their own recording released. The New Seekers' version was hurriedly produced whilst the group were in New York. Instead of the normal practice of bringing in musicians to back the group's vocals, Peter Doyle provided the accoustic guitar solo for the recording. Most of the musical backing already existed within the jingle. This was the only occasion from the era when one of the New Seekers played on their own studio recording.
I'd Like to Teach the World to Sing hastened the New Seekers' rise to international stardom, becoming a massive hit worldwide and topping the charts in numerous countries. Over thirty years later, it is still the song which people most closely associate with the group.
It is one of the UK's all time top 100 singles and the advert which started the whole thing off is now recognised as the best ever TV advert.