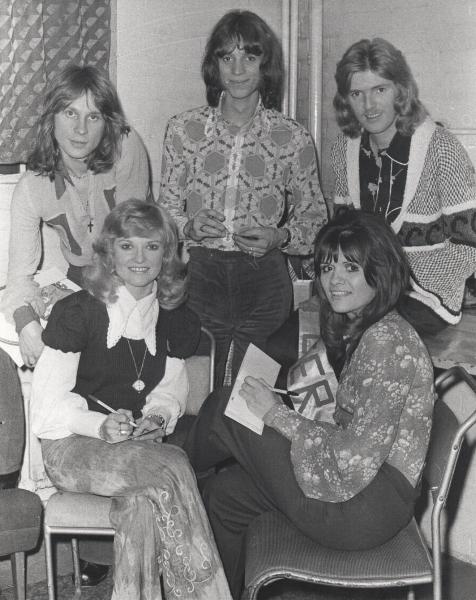 Marty, Paul, Peter
Lyn and Eve
Backstage at the Ipswich Gaumont. 23rd March, 1973
(with thanks to Julie Fance for the photograph)
It's more than 36 years since the New Seekers first took to the stage and 33 years since Peter Doyle left the line-up. Since then, there have been a good number of personnel changes with various members leaving to continue their careers in different directions but The New Seekers and former New Seekers are still performing and still teaching the world to sing!
New Seekers Past and Present

Viven Banks
Eve Graham
Paul Layton
Chris Barrington
Sally Graham
Peter Oliver
Isobel Davies
Mark Hankins
Lyn Paul
Peter Doyle
Laurie Heath
Keith Potger
Brian Engel
Victoria James
Kathy Ann Rae
Danny Finn
Donna Jones
Francine Rees
Mick Flinn
Nicola Kerr
Catriona Walsh
Jilly Franklyn
Marty Kristian

Paul Layton, Francine Rees, Donna Jones, Marty Kristian, Cathy Logan,
Mick Flinn and Brian Engel getting together for the fans
at Chorley Wood in 2004