2006 Gigs
New Seekers on Tour
Lyn's New CD
Lyn Paul in Blood Brothers
New CD - New Seekers Songbook 1970 - 1974
New Seekers Website
Eve's Website
New Seekeers TV Appearance
New Seekers Live on TV
The New Seekers made a live appearance on the UK's ITV programme This Morning on 23rd June. They gave a short interview and sang I'd Like to Teach the World to Sing. Clips shown as trailers throughout the show showed various line-ups of the New Seekers and including quick glimpses of Peter Doyle.
Eve Graham's website has now launched and can be found at: www.evegraham.com
Both New Seekers and former New Seekers are currently in action.
The latest line-up of the New Seekers have an exciting show which is touring the country this year. They are singing a mix of familiar New Seeker hits and classics made famous by other artists. The group's old favourites have all been given a fresh interpretation without losing any of their integrity and they are complemented by a wide variety of other hits which give the individual group members chance to show off their own talents.
It's a lively, vibrant show and a great night out with the added bonus of a chance to meet up with other fans, as well as the group themselves during the lengthy meet & greet sessions at the end of the evening - give yourselves a treat!
Tour Dates


In concert in Stockport. Front: Paul, Fran, Mick, Donna and Mark and in the background
Roger Warburn and (out of sight!) Bas Hankins providing the backing.
Lyn Paul
Following a few delays, Lyn's new album, Late Night, is now due to be released as downloads via itunes on 21st August with the CD available from 28th August.
Tracks include:
Clouds
Dance With Desire
Bang Bang (My Baby Shot Me Down)
Behind Closed Doors Crying
Dance With My Father


Have I Told You Lately
Hurt
I Only Have Eyes For You
In My Life
Late Night
Grande Hotel and
Talking In Your Sleep
Lyn will be singing some tracks from the album on Friday Night is Music Night on BBC Radio 2 between 7.30 and 9.00pm on Friday 18th August. The broadcast is also available on digital radio and can be heard for up to a week afterwards on the internet.
Meanwhile, since illness has forced Linda Nolan to drop out of Blood Brothers for the time being, Lyn Paul has stepped back into the lead role as the production tours the country. Lyn rejoined the cast in February and following appearances at other venues, can be seen at Tameside Hippodrome up to and including Saturday 15th April and then the production moves to the Liverpool Empire from 17th-29th April.
Lyn gives a tremendous performance as Mrs Johnstone. Her voice is in fantastic form and long-standing fans of the show who have never seen Lyn in the role before are being bowled over by her singing. Another 'must see' for all fans - but be quick, she is only standing in until 29th April, when the production leaves Liverpool.
For more information visit:
The Lyn Paul Website
Songbook 1970 - 1974
February 20th is the latest date given for the release of the new double CD of original New Seekers tracks. It was originally flagged up for September so keeping fingers crossed this time, latest available details can be found at:
Songbook 1970-1974
New Seekers Website
At last - a website dedicated to the New Seekers group
For information on the group, past and present, visit:
with many congratulations to Nic Culverwell for putting this site together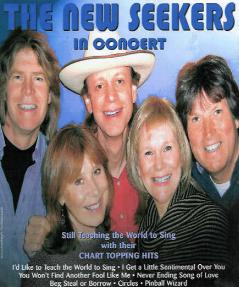 Representation: Nic Culverwell Management
In addition to the regular Warners dates, in 2006 the New Seekers will be appearing in theatres for the first time in 20 years:
Sinah Warren, Hayling Island (Warners) - Feb 4th (Sat)
Milton Keynes, The Stables - Feb 25 (Sat)
Maidstone, Hazlitt Theatre - Mar 23 (Thur)
Malvern, The Forum - Apr 1 (Sat)
Leeds, City Variety - Apr 5 (Wed)
Stockport, Plaza Theatre - Apr 8 (Sat)
St Helens Theatre Royal - Apr 9 (Sun)
Pavilion Theatre, Cromer - April 28th (Fri)
Haverhill Arts Centre - May 5 (Fri)
Lowestoft, Marina Theatre - May 6 (Sat)
Mansfield, Palace Theatre - May 11 (Thur)
Worthing, Pavillion Theatre - May 13 (Sat)
Potters Bar, Wyllyotts Theatre - May 19 (Fri)
High Wycombe, Town Hall - May 21 (Sun)
Tameside Theatre, Grays, Essex - May 25 (Thur)
Telford, Oakengates Theatre - June 3 (Sat)
Thu Swindon Wyvern Theatre - Jun 15 (Thur)
Skegness, Embassy Theatre - June 21 (Wed)
Kings Lynn, Corn Exchange - June 24 (Sat)
Margate, Theatre Royal - Jul 15 (Sat)
Weymouth, Pavilion Theatre - Jul 16 (Sun)
Whitley Bay, Playhouse Theatre - July 28 (Fri)
**The Garden Show, Nr. Rickmansworth, Herts - Aug 5 (Sat)
Weston Super Mare, Playhouse Theatre - Aug 20 (Sun)
**Pizza on the Park, Knightsbridge London -Aug 25 & 26 (Fri & Sat)
Leamington Spa, Royal Spa Centre - Sep 8 (Fri)
Edmonton, Milfield Theatre - Sep 9 (Sat)
Notts,Thoresby Hall (Warners) - Sept 23rd (Sat)
Harlow, Playhouse Theatre - Oct 6 (Fri)
Cannock, Prince of Wales Theatre - Oct 29 (Sun)
Isle of Wight, Bembridge (Warners) - Dec 9th (Sat)
** Additional dates, contact
New Seekers Management for further details.