PETER DOYLE'S
NEW CD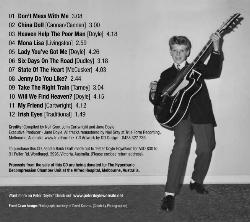 Rear of CD Cover
Review
Something rocking, something country, something thoughtful, something old and something new; it's all here in a wonderful mix of songs from Peter's own music collection from the 1970's to the 1990's.
Some of these songs will be familiar, Peter gives classic performances of China Doll, Mona Lisa and Irish Eyes . You may also recognise Take the Right Train, first released as the B-side to Peter's later singles under the title We Believe in Lovin' but still sounding as fresh now as in the 1970's. State of the Heart was a big hit in Australia for Ross Wilson's Mondo Rock and Peter gives an amazing rendition here - all the more so once you've read the sleeve notes to the CD!
The origins of Don't Mess With Me and Jenny Do You Like, are uncertain. Their performance is not. Peter belts out the first and nobody sleeps when Peter sings like this - here is all the vitality we remember so well from him. Jenny Do You Like is a lively, bouncy number believed to have been recorded in the early 70s. It's rare to hear Peter sing something political but not that surprising when he does, it is the politics of everyday life and his own song: Heaven Help The Poor Man is a deep, country number, demonstrating the depth of Peter's vocal range. Six Days on the Road is another solid country song, showing that Nashville would have had something to watch out for, if Peter had chosen to follow that route!
The album also contains two beautiful love songs, both composed by Peter: Lady You've Got Me is a powerful number but Will We Find Heaven? is a real spine-tingler. It is followed in the running order by the one song not performed by Peter - his friend John Cartwright's tribute My Friend. A beautiful, poignant song for Peter, which he did get the chance to hear and he loved. The final track starts very appropriately "There's a tear in your eye..." and this is Peter's unexpected rendition of Irish Eyes a lovely, fun performance to finish, just Peter, a guitar and a few seagulls. Listen out for Peter's laugh at the end.
Included with the CD is a comprehensive set of sleeve notes, covering both information on the tracks and the background to the CD with contributions from Peter's friends: colleague John Cartwright, manager Greg Lynch and from Peter's wife, Jane Doyle.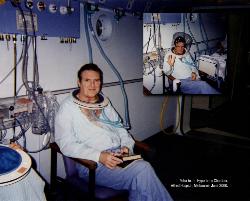 Peter in the Hyperbaric Chamber,
Alfred Hospital, Melbourne
(Rarities Cover,Tray Insert)